Some things are just worth waiting for! Our newest grandson, Hamish Dean, finally arrived at 2:40 a.m. Monday, April 9. He weighed nine pounds and is 20 inches long. This is the first photo I took of him, still in the birthing pool with his parents:
Hamish (pronounced hay-mish) was born underwater in a birthing pool at his home, surrounded by low lights, soft music and an abundance of love. He was 11 days overdue, but my daughter trusted her midwife and her instincts and held out for the home birth experience that she and her husband had planned. It was a wonderful experience, and I'm so grateful that I was able to be there. My weekend trip extended into 10 days as I waited for him to arrive, but it was so worth it! His older sister, Anna, already adores him, as do the rest of us.
I made a 5 x 7 framed announcement for my class room at work, using a photo I took when he was about 10 minutes old: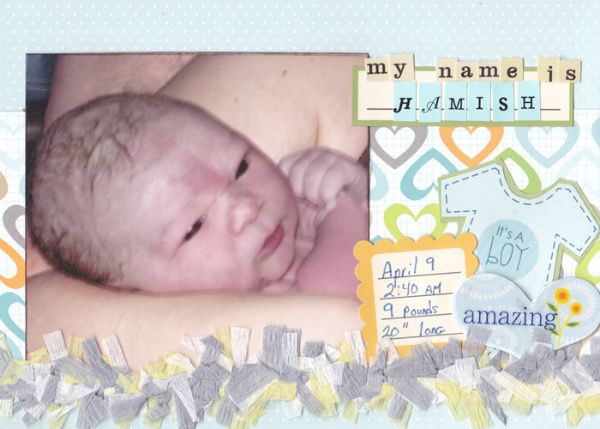 The patterned papers are from Bella Blvd's Baby Boy line. The crepe paper trim is handmade from
Dot & Whimsy
, who kindly sponsored the challenge team this month at
Cookin' Up Creations
. Come on over and check out the ways the team used this fabulous fringe!
We're traveling to Wisconsin this weekend so "Bapa" can meet our new little guy. You can bet there will be plenty of new photos to scrap very soon!
Meanwhile ..... I'm very pleased and honored to be the April guest designer at
Scraptastic Club
. I'm working with the fun Great Adventures kit, which is perfect for scrapping photos of my grandsons.
Today on the Scraptastic blog, I posted two layouts, each featuring a grandson. This one is Ryan, who does not like having his photo taken and told me "Just ONE, Grandma!" The only things on my layout that aren't from the kit are the button and the spray mist.
Six year old Cameron, unlike his cousin, was more than happy to pose for his mom's camera to show off his first lost tooth (or lack of it):
The kit came with a book of stickers with cute sayings. I layered a couple of them and added alphas from my stash to make a BIG bold title.
Thanks for looking and have a fantastic weekend!